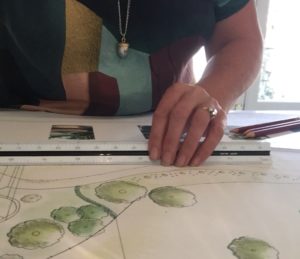 Building on from a garden assessment, we offer a full design service which includes a complete set of all the essential design drawings and plans that will enable you to start creating your dream garden. To achieve this, we:
Undertake a thorough site analysis, which includes accurately mapping your site and identifying all key features, including existing plantings, soil types, sun paths, gradients, architecture, neighbouring environment, risks and challenges. Depending on your site, we may also utilise aerial photos and/or a surveyor to assist with capturing all relevant information.
Develop a draft concept design plan which incorporates your lifestyle and aesthetic requirements, coupled with data from your site analysis. We spend time talking this through with you, so any adjustments can be made before the design is finalised.
We then create all the relevant plans and documentation to bring your garden design to life. These include final plan view drawings which include materials lists and explanations, elevation and cross section drawings, along with planting plans and reference images to support visualising your new garden along with full planting plans to guide selection and planting placement.